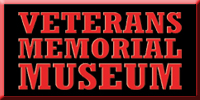 Starting: August 21, 2013 – 10:00 am CDT
Ending: August 21, 2013 – 5:00 pm CDT
Location: 200 East Main Street, Branson, MO 65616, USA
Please Contact Auctioneer For More Information
Heritage Global Partners will be Hosting an Open To The Public Preview and Inspection:
August 19th – 20th: 9:00am – 4:00pm local time.
The Webcast Auction Event will be Conducted at The Branson Hilton Hotel and Convention Center:
200 E Main St  Branson, MO 65616
Doors Open at 9:00am, Auction starts at 10:00am
Refreshments and Concessions Available
Assets Located

:

 1250 W 76 Country Blvd Branson, MO 65616


Auction Location:

 200 E Main St  Branson, MO 65616

PLEASE NOTE: There Is A Buyer's Premium Added To Each High Bid. The Buyers' Premium Is As Follows:

15% added to all bidders paying by wire transfer or certified funds

18% added to all bidders paying by credit card
---
Key Assets:
One-of-a-Kind, Bulk and Piecemeal Webcast Sale of The Veterans Memorial Museum of Branson, MO.
Sale Featuring All Irreplaceable Treasures Honoring War Heroes of the 20th Century, Assets Appraised at $20MM.
Sale Including Prints, Paintings, Posters, Medals, Pendants, Uniforms, Equipment, Weapons, Memorabilia, and Much Much More.
Of Special Interest:
The world's largest war memorial bronze sculpture (over 70 feet long, weighing 15-tons) is the hallmark of the museum and features 50 life-size statues storming a beach.
The life-size figures were modeled after a combat soldier from each of the 50 states. The statue is surrounded by the names of those killed in action during WWII. **Seller Financing Available**
Please Click HERE for a Complete Listing of All Assets For Sale 
More Details Coming Soon!
---
Contact:
David Barkoff
[email protected]
+1. 650. 649. 0147
Webcast Sale Technologies Provided By:


---
Auction tools
Preview assets