Before the wrecking ball slams into Candlestick Park, rendering it into a heap of twisted rebar and concrete, you have a chance to buy a bit of the old ball yard.
A Bay Area company is preparing an online auction in September in which bidders can get their hands on a wide array of items from The 'Stick.
The city's Recreation and Parks Department has already begun selling pairs of Candlestick's signature orange seats. But everything else — including a Candlestick Park scoreboard, light towers, broadcast and kitchen equipment, industrial washing machines and boilers — is being prepared for the Sept. 10 sale.
Heritage Global Partners, a Foster City firm that specializes in liquidating companies, will handle the auction. The executives at Heritage Global have been in the Bay Area for generations. So in addition to the auction being a money-maker for the business, it will also bring back a flood of memories for them from the old building.
"We're 49ers and Giants season ticket holders, so it's interesting for us," said Nick Dove, Heritage Global Director of Sales.
It's too early to tell how much money the auction will raise. But Dove estimates it will be in the hundreds of thousands of dollars at least. That might seem low. But you must keep in mind that anyone winning items at auction has to cover the cost of removal.
Candlestick Park, built in 1960, is owned by San Francisco. The proceeds from the auction will go to the city. Heritage Global will make its money — 16 percent — from what's known as the 'buyer's premium.' Think of it like a sales tax. If you buy, say, a TV set for $100, you would end up paying that amount plus $16 to Heritage Global.
Dove said his company is still compiling the full list of auction items. There likely will he hundreds of lots. He said some of the most intense bidding may be focused on a 18-foot by 9-foot scoreboard as well as seats from the luxury boxes, which are leather and embossed with the 49er logo.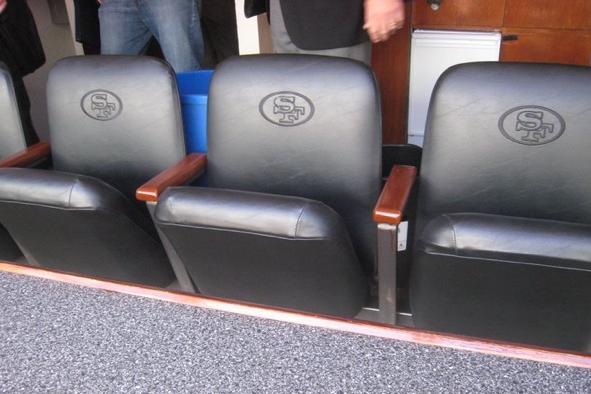 Candlestick Park has already hosted its last football game. Paul McCartney's Aug. 14 concert will be the last special event there. But this auction, Dove said, "is truly the last of the last. When we're done with the auction the only thing left is taking the wrecking ball to it."