Miami's AeroThrust Jet Engine Repair Sold In Bankruptcy Auction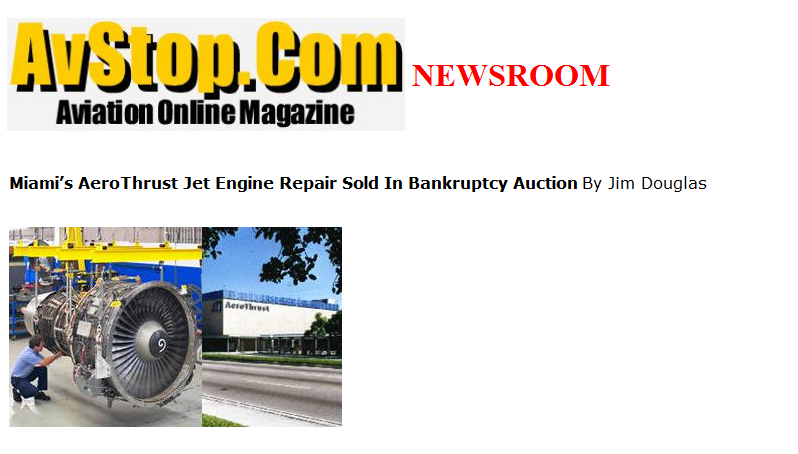 September 18, 2010 – AeroThrust Corporation, described as the largest U.S. provider of jet engine maintenance, repair and overhaul services, was sold intact for $5 million to a group led by Miami-based Air-Capital Group, LLC. AeroThrust owners had filed for bankruptcy late in 2009. The sale occurred in a bankruptcy auction conducted by Heritage Global Partners, Hilco Industrial, and Counsel RB Capital, LLC.
The auction, which was facilitated through technology provided by Hilco Industrial and Heritage, drew more than 500 prospective buyers. It was staged both on-site at the company's 140,000 square foot Miami facility and, simultaneously, through an Internet webcast.
Among the tangible assets included in the sale were equipment, tooling and parts inventory for maintaining the popular CFM56 jet engine as well as a number of remanufactured engines. According to David Weiss, Vice President of Sales at Heritage Global Partners, "The sale of AeroThrust and all its tangible and intangible assets represented the first time a jet engine repair facility has been sold in bulk."
"The team responsible for planning and conduction this important auction was pleased it could assist the Trustee to maximize the value of the assets and the recovery to creditors." — Adam Reich, a principal with Counsel RB Capital
"Our initial thoughts were that the assets would sell in individual lots, but it became clear early-on in the auction process that there was more value to be recovered in a bulk sale." — Robert Levy, CEO of Hilco Industria
In 1946, Bergstrom, George Snowden, and John Fitzgibbon production managers for Pratt & Whitney Aircraft, and open Air Carrier Engine Services, Inc. (ACES), on the grounds of the newly-named Miami International Airport. On December 16, 1946, ACES received its Repair Station Certificate #3604 from the Civil Aeronautics Administration (predecessor to the FAA) and began providing its customers with expert service on their reciprocating engines.
In 1982, new ownership changed ACES' name to AeroThrust. The company's focused on maintenance, repair, overhaul, sale and leasing of the JT8D remained unchanged. In fact, in the mid-1980s, services were extended to include the JT8D-200 engine, with the first -200 being repaired for AeroMexico in 1986. By 1979, ACES serviced 1,000 JT8Ds. In 1992, Pratt & Whitney showed its confidence in the excellent services provided by AeroThrust on their engines, when they selected the company to be an approved Warranty Repair Station for the JT8D-200 series engines.
By the end of the millennium, AeroThrust had solidly established a worldwide reputation as a premier maintenance and repair facility for the most dependable and widely used jet turbine engine in the air. Without a doubt, this reputation was a direct result of having consistently provided superior customer service, outstanding performance, and exceptional value during the previous five and a half decades. Like the entire aviation industry, AeroThrust was heavily impacted by the terrorist attacks of September 11, 2001. As fate had it, the company changed ownership in November 2001, a transition which turned out to be quite fortunate.
With all odds stacked against it, and with real concern in early 2002 about staying open for business, a new AeroThrust was birthed. Defying all odds, the company came together as a team to do whatever was necessary to prevail, and in doing so, it showed what it was made of—character to endure the most trying of times!
In December 2009 AeroThrust filed for Chapter 11 bankruptcy court protection in Delaware however, a judge had approved multiple motions to keep operations functioning. The company had sought a buyer while it negotiated Chapter 11. The company had liabilities estimated at $50 Million. AeroThrust at the time was owned 100 percent by Windstar Capital LLC, a Los Angeles-based company that bought it from Saab AB for $50.1 million in 2001. The largest unsecured creditor listed was Cincinnati-based GE Aircraft Engines Quality Technology Center, at $2.6 million.