C.A.R.E. Capital Asset Redeployment Enterprise
Heritage Global Partners is proud to offer our clients a state of the art internal redeployment software solution.
Our Capital Asset Redeployment Enterprise (C.A.R.E.), offers corporations of all sizes the ability to load surplus assets into a hosted web based tool, and provide instant visibility for users worldwide to see their equipment.
C.A.R.E. allows companies to load their assets, view them, and decide if they would like to redeploy them within their organization, or sell them through HGP into the secondary market place.
HGP's C.A.R.E. is a tool built under the supervision of the managing partners: we understand that the highest and best use of any asset is its redeployment within its own company.
We built C.A.R.E. to accommodate the user – it is robust, yet easy to use. It guides its user through the process of uploading, browsing, selecting, redeploying or selling an asset.  If your company would like to discuss the concept of redeployment, we proudly offer C.A.R.E.; it's fast to install, user friendly, and competitively priced.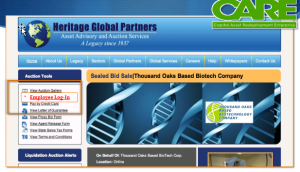 Access: A link to the Re-Deployment log-in can be accessed either through a companies personal website, or through a permanent landing page at www.hgpauction.com.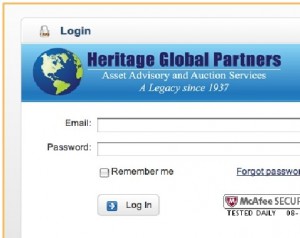 Personal Log-In: The CARE tool is accessed through a personal log-in. A company can provide each user an individual password protected log-in, or a single log-in for all employees. Each user is granted as much or as little access as the administrator wants to provide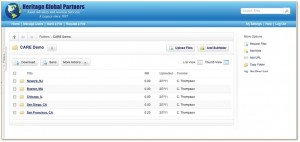 Home Page: The CARE program is very flexible and simple to use. Above please see an example of how a company can create an individual folder for available assets by location. The program is very easy to learn and manage.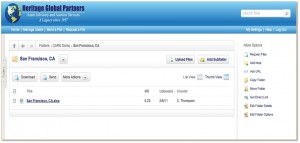 In each locations individual folder, a company can list their assets in an Excel document. The administrator is granted access to manage and upload the files and employees are able to download the documents, but not change them.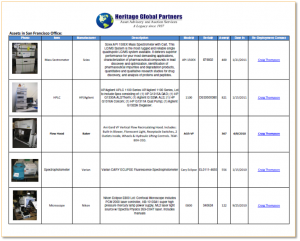 Excel Document: Assets can be listed in Excel. Excel is simple to use, and can be implemented into any system, including accounting. Companies can manage their assets by customizing the documents to capture all necessary information. Excel documents are easily searchable. Each asset can be given a Re-Deployment contact for employees to email if they have interest in an asset.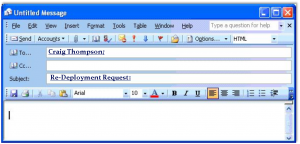 When an employee clicks on an assets Re-Deployment contact assigned in the Excel document, Outlook will automatically pull up their contact information to submit a request to Re-Deploy the asset right away, or to schedule a visit to view the equipment.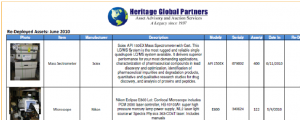 Monthly Updates: A company can choose to either assign an employee or Heritage Global Partners to manage their Re-Deployment tool. The person in charge of managing the tool is responsible for managing the Excel documents by updating new available equipment, removing re-deployed or sold equipment, and monitoring the time an asset has been available for re-deployment. An important aspect of the simple system will be the ease of use with the accounting department. The CARE manager can easily track what is re-deployed and sold, and report the information each month to the finance department.