Contact
David Barkoff
+1. 650. 649. 0147
Please contact Auctioneer for more details.
A one day open to the public inspection will be on April 3rd.
Door opens at 9:00am and closes at 4:00pm.

All dates and times are subject to change.
Sherwood Partners, LLC is the managing member of the Assignee for Potter Drillling: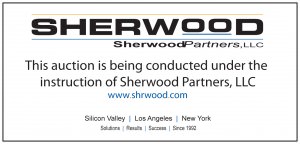 Key Assets
Sherwood Partners, in its capacity as Assignee for the Benefit of Creditors, has authorized a public webcast auction of Potter Drilling,  A Developer of Innovative Drilling Technologies for Geothermal and Hard Rock Resources. Sale Featuring Directional Drilling Rig, Rolling Stock, Machine Tools, Spares, Furniture, IT, and More! 
Amkin Technologies  DVT 800V             Coil Tubing Unit, PUSH/PULL Rating: Thrust 40,000 lb. and Pullback 80,000 lb., Fluid Systems: Onboard Triplex Pump, Typical 200 gpm, High-pressure Swivel, Reel capacity: 2.625 in. 3000 ft., 2.375 in. 4000 ft., 2.00 in. 5000 ft., Others available, Overall Dimensions: Drill Angle: deg 45 – 90, Length: 32 ft., Width: 8 ft. 4 in., Height: variable.  to include User Manual.
35-60 GSL Eager Beaver Gooseneck Trailor
4,000 Capacity Toyota 40-3F625 Forklift
2002 Chevy Silverado 2500 HD
Sampson Trailor
Clausing Atlas 3VS08 Vertical Drilling Machine
Moriseiki MH-1500G Engine Lathe
13″ Clausing Colchester
Hardinge HLV-H Dovetail Lathe
3 Ton Capacity Crane
Office Furnishings and Art Work, Fooseball Table, Confrence Room Furniture
Computers, Printers, and Phones
Welders, Hand Tools, Air Compressors, Fire Cabinets and Much Much More!