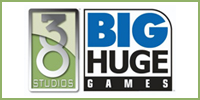 Starting: December 11, 2013 – 10:00 am EDT
Ending: December 11, 2013 – 12:00 pm EDT

PLEASE NOTE: THIS WILL BE A TELEPHONIC AUCTION:
Please Click Below For Additional Terms and Conditions Before Registering and Bidding
---
Key Assets:
Intellectual property rights in the "Amalur" fantasy universe including:

"Project Copernicus" an in development Massively Multiplayer Online Role Playing Game (MMORPG) including a 10,000 year world history, completed character "races" and playable "zones"
Sequel rights to the critically acclaimed "Kingdoms of Amalur: Reckoning", including development concepts, game artwork and designs.
Merchandise rights and revenue streams associated with the Xbox 360, PS3 and PC title "Kingdoms of Amalur: Reckoning"

Intellectual property rights in Big Huge Games' properties including the classic PC strategy title "Rise of Nations" as well as "Rise of Legends" and the Xbox Live Arcade title "Catan".
In house developed video game technology including the "Big Huge Games Engine" and the 38 Studios' gaming, social media and development platform codenamed "Helios"
Click on image below to view video developed for Project Copernicus:

Click on image below to view video developed as Prologue to Kingdoms of Amalur:

---
Contact:
Nick Jimenez
[email protected]
203.733.7191
Regarding Intellectual Property
Parties interested in purchasing the intellectual properties, in bulk or individually, will be required to complete a non-disclosure agreement. Please click here to download the agreement, print, complete, sign and return to Nick Jimenez via email at [email protected]
Upon submission of this agreement (Non Disclosure Agreement)., interested parties will be provided access to secure files with complete descriptions and information regarding the intellectual property available at auction. Heritage Global Partners, Inc. makes no representations or warranties as to the validity or accuracy of the information contained therein.
---
View Info
Auction tools
Preview assets